In this guide checkout How to restore iPhone forgotten Passcode – Guide
Have you ever been in a situation where you have forgotten your iPhone or iPad passcode and ended up paying some bucks to the Apple Care center to get it unlocked, then next time won't. Next time if you have forgotten your iPhone or iPad passcode just follow the below guide and you will be able to restore iPhone forgotten passcode.
iPhone allows only six tries to enter your Passcode, if you exceed that your iPhone will be disabled. So you should not mess up with this issue by guessing the passcodes and entering them. Instead you can follow the below listed three possible ways to restore iPhone forgotten passcode and regain access to it.
Also Read: Fix No SIM Card installed Error on iPhone or iPad
Restore iPhone forgotten Passcode:
Using iTunes:
If you have synced your iPhone with iTunes earlier, then you can perform a restore with iTunes. To do so, follow the below steps properly.
Connect the iPhone to PC that you use normally to sync.
Open iTunes. If iTunes asks you passcode, then connect your device to other PC, that you have synced with or try other methods.
iTunes will sync your device automatically and creates a backup. If it doesn't sync it manually.
After Sync is completed, restore your device.
When iTunes asks to setup your device, choose "Restore from iTunes backup".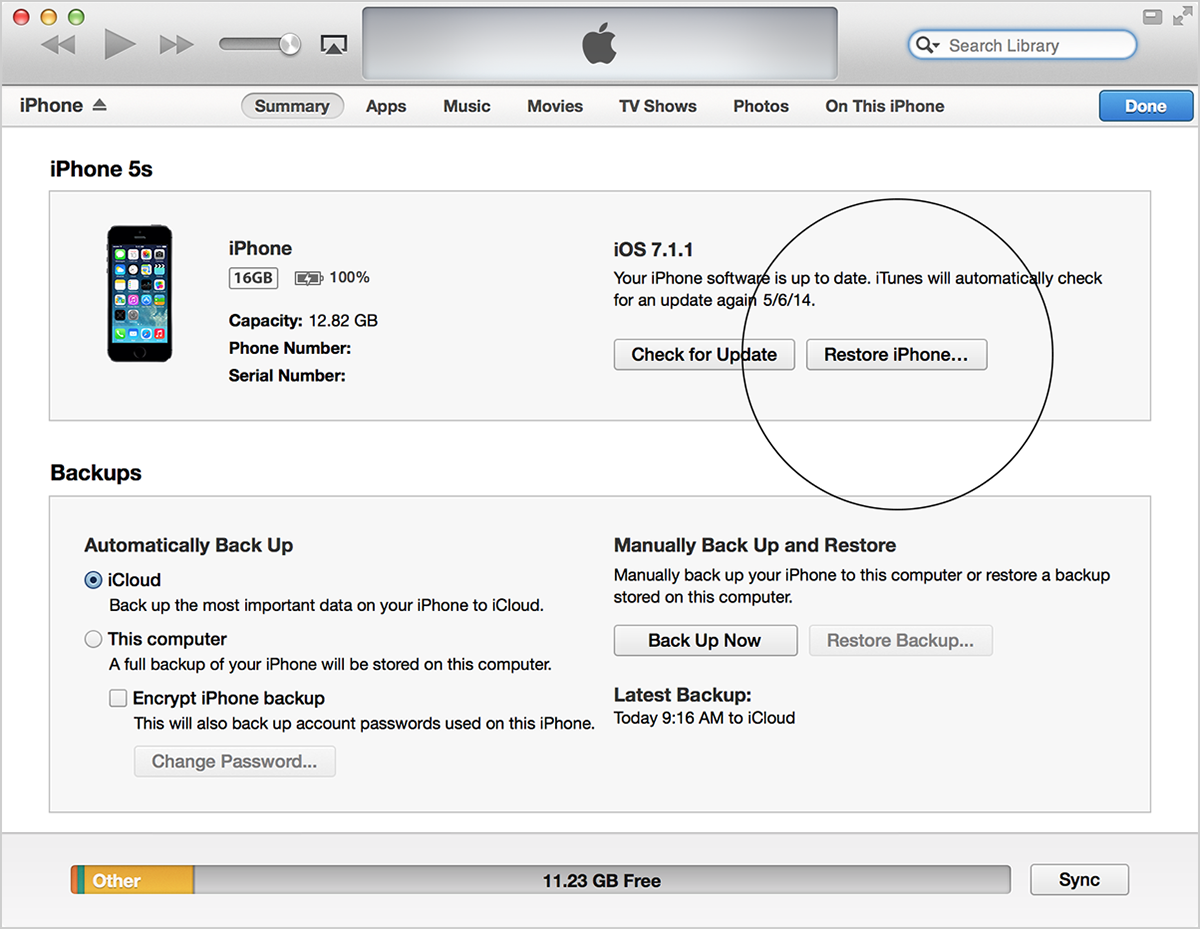 Select your device in iTunes and choose the most recent backup and restore it.
Now your device will go through full restore but you won't lose any data.
Find My iPhone:
If you have Find My iPhone enabled on your iPhone then you can restore iPhone forgotten passcode using it. If it is enabled, then follow the below procedure.
Go here and see if your iPhone has Find My iPhone enabled.
Click All Devices at the top of your browser window.
Select your device and click on "Erase [device]", this will erase your device and so the passcode.
Use Setup Assistant on your device to restore the most recent backup of your device.
Recovery Mode:
If the above two methods fail for you, then use this method. By using this method you are erasing all the data on the iPhone and its passcode. It is called hard resetting, this will bring your device to the factory state. To hard reset your iPhone follow the below procedure.
Disconnect all the cables from your iPhone.
Power off iPhone.
Press and hold Home button, while holding this connect your device to iTunes. If your device doesn't turn on automatically then turn it On manually.
Hold Home button until you see Connect to iTunes screen.
iTunes will now notify you that it has detected a device in recovery mode.
Click ok and restore the device.
Now if you want you can restore the data using the most recent backup or continue to use it as a new iPhone.
If any of the above methods to restore iPhone forgotten passcode, haven't worked for you then do let us know in the comment section.