After rolling WhatsApp voice calling feature for Android users, it now time for the iOS smartphone user to place internet calls using the company latest voice calling feature. This popular messaging app owned by Facebook, has released a major update to its iPhone app today. Apart from voice calling feature, the update also brings several other improvements.
The WhatsApp Voice Calling feature can be compared to various other Audio service in iOS like the Skype and the FaceTime. Data charges may be apply as the service uses the internet connectivity.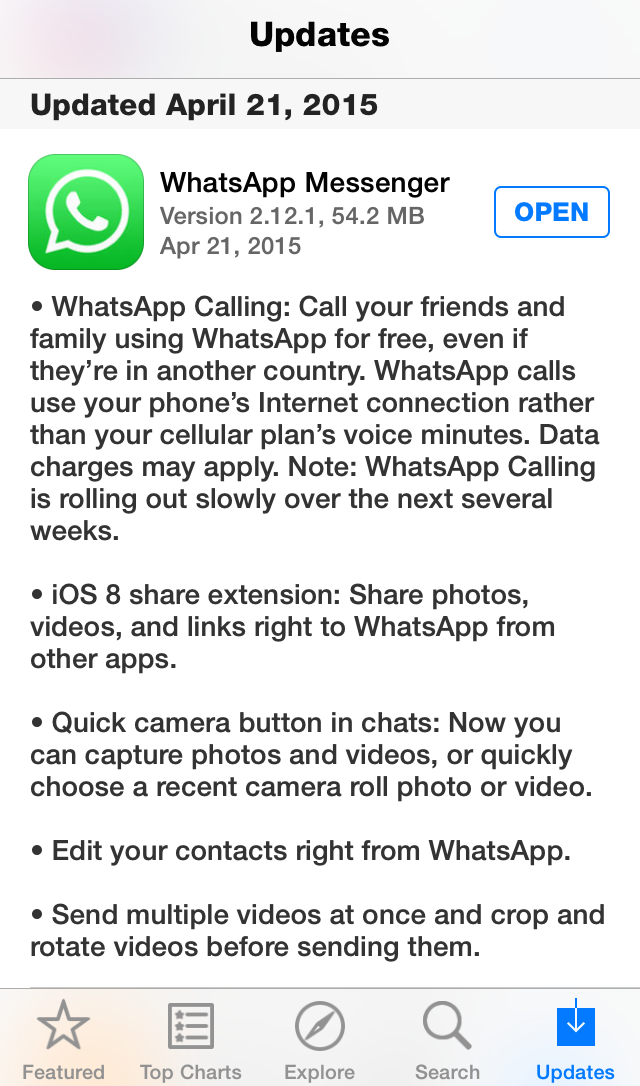 WhatsApp while update its app for iOS devices says "Call your friends and family using WhatsApp for free, even if they're in another country. WhatsApp calls uses your phone's Internet connection rather than your cellular plan's voice minutes".
The Update is rolling out quite slowly, so you may not get the feature right away. You need to wait for a week or two to experience the latest WhatsApp voice calling feature. The company has undergone a various beta test before rolling the new calling feature.
WhatsApp 2.12.1 brings many features like an iOS 8 share extension, inclusion of a quick camera button in chats, easily edit contacts from WhatsApp application and right to send multiple videos at once. The user can also crop the videos before sending them. With the help of iOS 8 share extension, one can share multiple photos, videos and links directly to WhatsApp from other iOS applications.
There are almost 800 million monthly WhatsApp active users all over the world and this major voice calling update will upsets many other messaging companies who already experienced huge drop down in their earnings.
Do update your device to latest version of WhatsApp and let us know how you like the WhatsApp Voice Calling feature.
Related Content:
(Guide) How to Delete WhatsApp Group Chats on iPhone without leaving group
How to Delete WhatsApp Account from iPhone- Easy Guide