Nokia X, X+, XL Screenshots Tricks and Tips
Nokia X, X+ and XL are the three new Android devices which the Nokia has launched recently. All these devices are favourable for those who are looking to buy budget android phone. If you have brought one and wanted to take screenshot of your mobile screen, then this guide will surely helps you. Screenshots are mainly taken to save high score of screens, any useful stuff while browsing the web, etc. No software or application is required to take the screenshot. This process can be performed manually within few seconds of time. Check the below pre requisites and instructions to take screenshot of your own.
Pre Requisites:
No pre-requisites is required to take screenshot of Nokia X, X+ and XL android devices. Only basic operational knowledge of mobile is needed.
How to take Screenshot on Nokia X, X+, XL Android Phones:
Step 1: Select the screen of your choice of which screenshot has to be taken and keep it open.
Step 2: Now find the location of 'Power Button' and 'Volume down Button' on your device.
Step 3: Press and hold "Power + Volume Down" buttons for 2-3 seconds.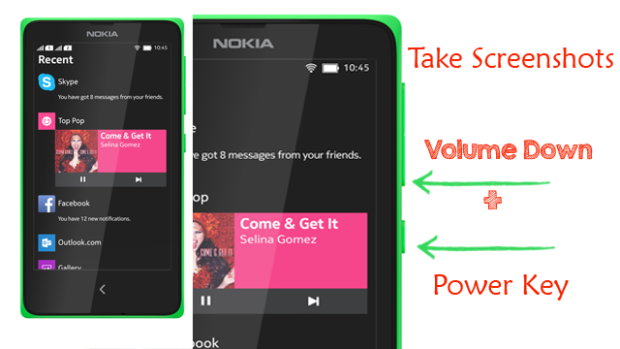 Step 4: You will be notified with camera shutter sound. That's means you have successful taken screen shot of your device. Now release the power and volume down buttons.
Step 5: All your images will be stored in separate folder named "Screenshots". To view open Gallery > Screenshots in your deice.