Whatsapp is one of the most popular, latest and most downloaded Android messaging app. Anyone can download the app from Google Play Store and with just phone verification gives access to application. Most of them will be using the app for sending messaging, images, videos, audio and more. Even this app is useful in business field like placing and taking the orders.
But the Whatsapp has the facility to add only one number there by creating limitations for dual SIM. So in this guide we brought the trick to use two numbers of Whatsapp at a time. All credit goes to XDA Member OsamaGhareeb, who launched the modified version of Whatsapp called OGWhatsApp. With the help of this application, two numbers can be used in Whatsapp messaging application. The application is crossed checked and works on any Android Smartphone.
To enjoy this feature just download the modded Whatsapp application and make some changes with the help of file explorer. Check the below guide for using two numbers of Whatsapp at a time.
Guide to use Two Numbers of Whatsapp at the same time:
Step1: First of all open the Whatsapp application in your android phone and take backup of all your Chat Conversations. You can take by go to Chat Settings in the Whatsapp application.
Step2: After taking successful backup of all your chat conversations, change the name of the folder from sdcard/WhatsApp to sdcard/OGWhatsapp. Use any File Explorer (Es File Explorer or Astro File manager) to do this on your Smartphone.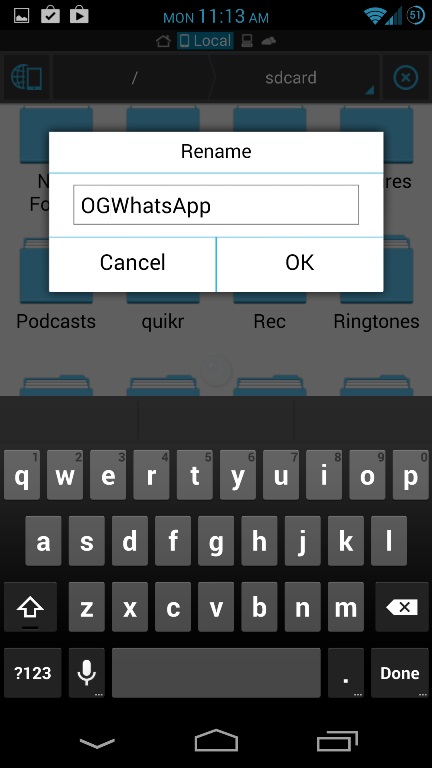 Step3: Now uninstall the Whatsapp on your device and install the Modified version of OGWhatsApp on your device. Click here to download the modified file.
Step4: Now install the OGWhatsapp and run from the app drawer. Use the old number which you were using on the Whatsapp.
Step5: Now from the Google PlayStore, download & install the official version of Whatsapp on your device and use the new number on this application.
You will be seeing two shortcuts on your device home screen icons related to Whatsapp and OGWhatsApp. Now enjoy the Whatsapp with two numbers thereafter giving relief to buy another Smartphone to use Whatsapp with second number. Don't forget to share with friends via social networking sites as they can enjoy this guide.