How to unlock Bootloader of Motorola mobiles using the official method
Android device manufacturers ships devices with locked bootloader, to avoid users from messing with their device. Locked Bootloader avoids users from Rooting their device, installing Custom ROM's, Custom Kernel's etc. So unlocking Bootloader will allow you to Root your device and even allows you to install the Stock updates manually.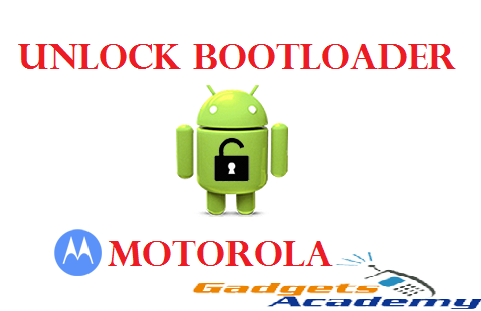 We have compiled below the official method to unlock bootloader of your Motorola devices, by following it you will be able to unlock bootloader of Motorola devices in matter of no time. So let's proceed to unlock bootloader of Motorola devices without wasting any time.
Before we proceed to unlock bootloader of Motorola devices we have to follow some set of instructions to prepare Motorola device for the unlocking process.
Pre Requisites:
Backup all of your data to a safe location, as the unlocking bootloader erases or wipes all of your data.
Charge your device to at least 75%, to avoid your device from shutting down in between the unlocking process.
This process of unlocking Bootloader is only for Motorola devices with unlocked network carrier, it is not for network locked devices.
Enable USB Debugging on your device from the Developer Options.
Download and install USB drivers suitable for your device from here.
Now, let's proceed further and unlock bootloader of Motorola devices, by following the official method.
Disclaimer: We should not be held liable or responsible in any manner for any damage occurred to your Motorola device. So understand the risk involved and proceed further at your own risk. Moreover Unlocking Bootloader voids all or part of your warranty.
How to Unlock Bootloader of Motorola devices:
Step 1: Go to Motorola's Bootloader unlock page and click "Next".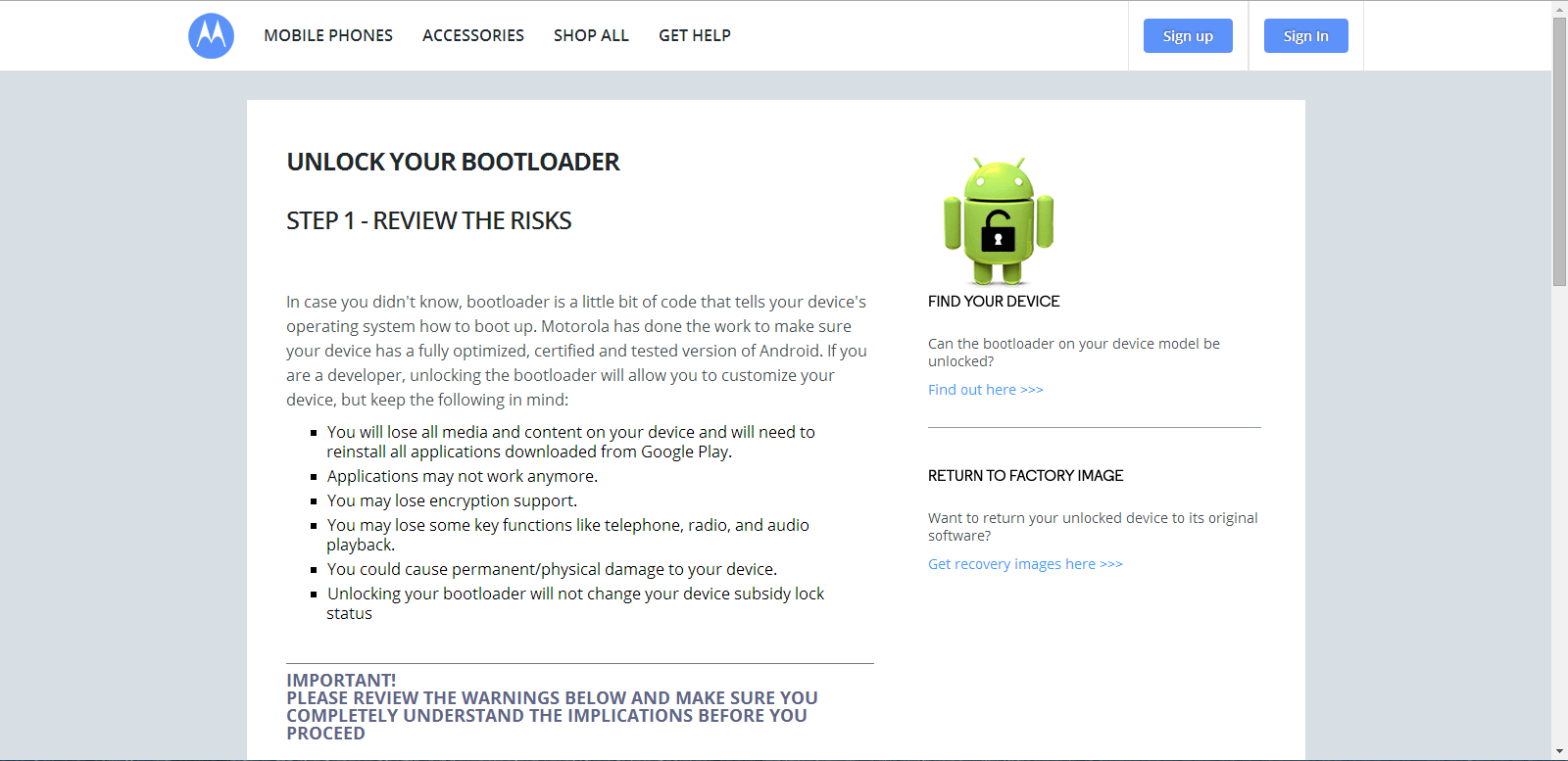 Step 2: If you have already configured Google account on your Motorola device then use that Google account to sign in, otherwise use your Motorola website account. If you don't have Motorola account then click on Sign Up button to register.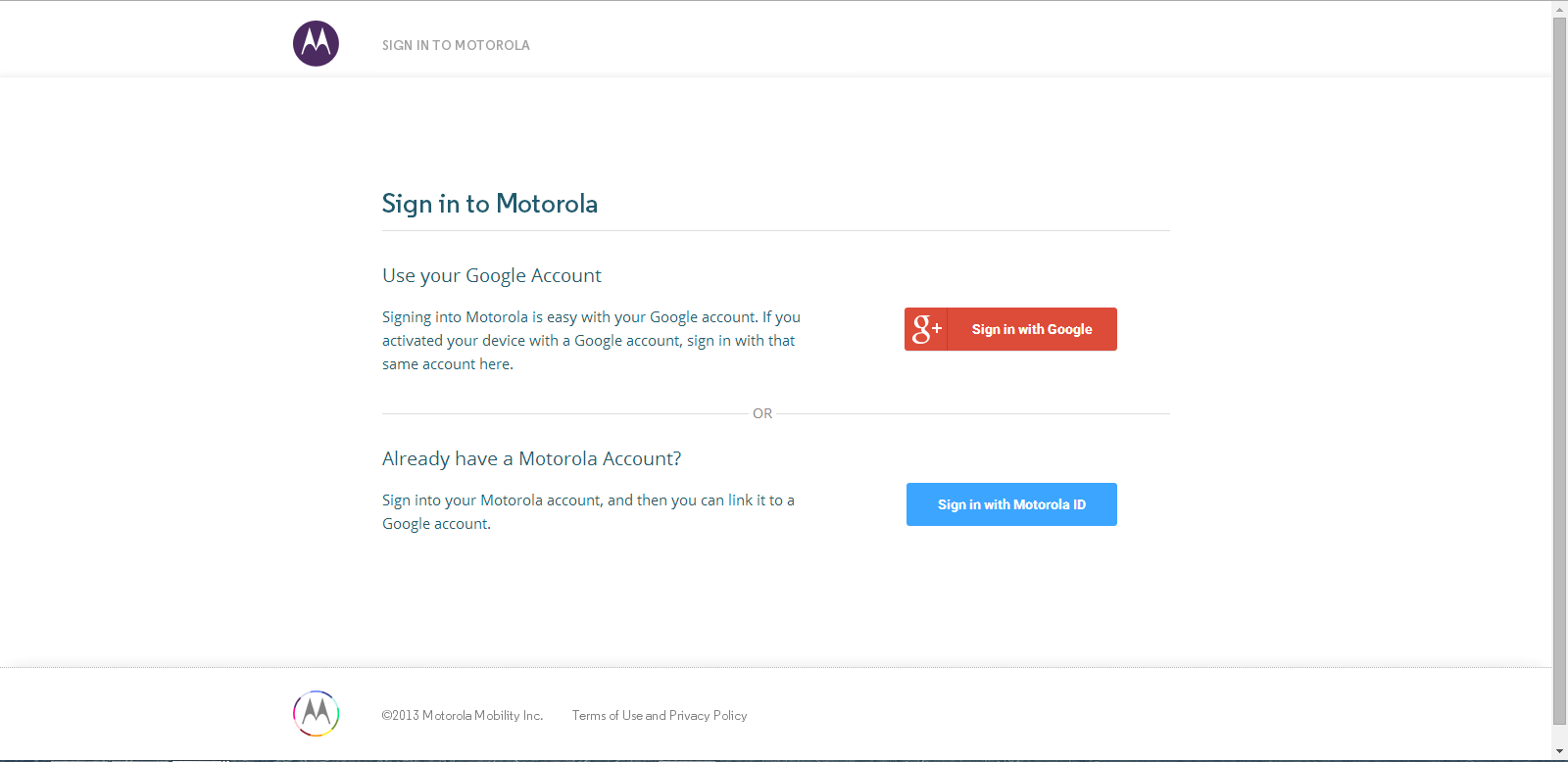 Step 3: Once you are logged in, you will be provided with bunch of steps to Unlock Bootloader of Motorola devices and we will guide you through each and every step and explain them clearly. So just proceed below and follow each and every step as explained.
Step 4: Download the Fastboot files from here to your PC and extract it to your system drive i.e., C:/(System) drive.
Step 5: Now power off your Motorola device and remove battery for about 10 seconds and place it back.
Step 6: Enter into Bootloader Mode, to do so, press and hold Volume Down and then Power button to boot your device into Bootloader Mode.

Step 7: Connect your device to PC using OEM or original USB data cable.

Step 8: Open Fastboot folder which you created i.e. C:/fastboot and press and hold Shift key and right click anywhere inside the Fastboot folder at the empty space. Now from the list of options choose "open command window here". Now a Command Prompt will open.
Step 9: In CMD type: fastboot oem get_unlock_data and press enter.
Step 10: Now a long text will random numbers and letters appear. It will look as shown below:
[box type="info"]
(bootloader) 0A40040192024205#4C4D3556313230

(bootloader) 30373731363031303332323239#BD00

(bootloader) 8A672BA4746C2CE02328A2AC0C39F95

(bootloader) 1A3E5#1F53280002000000000000000

(bootloader) 0000000
[/box]
Step 11: Copy the text and paste it in Notepad or any other text editor and remove all the spaces and string "(bootloader)". Now you will obtain a long string with no spaces. It will look as shown below:
[box type="shadow"]
0A40040192024205#4C4D355631323030373731363031303332323239#BD008A672BA4746C2CE02328A2AC0C39F951A3E5#1F532800020000000000000000000000
[/box]
Step 12: Now head over to PC and look at the bottom of the page (which we opened in Step 3) for the text box and put the string there.

Step 13: Once you have placed the string, click on "Can my device be unlocked?" button. If your device is un-lockable then a button to "REQUEST UNLOCK KEY" will appear at the bottom of the page.
Step 14: Accept all the terms and conditions and proceed further.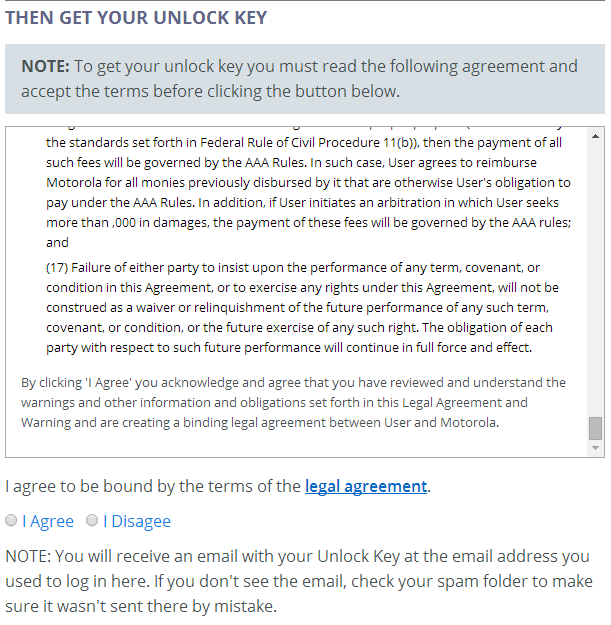 Step 15: Now you will receive email from Motorola with the unlock code included. Make sure your device is still connected your PC and CMD is opened.
Note: It may take some time to receive the unlock code wait for the mail and don't disconnect your device from PC.
Step 16: Once you receive the unlock code, in CMD type: fastboot oem unlock KEY and press enter.
Note: Replace KEY in the above command with the unlock key you received.
Step 17: If everything goes as expected, then you will see Warning Message as shown below and your device will reboot.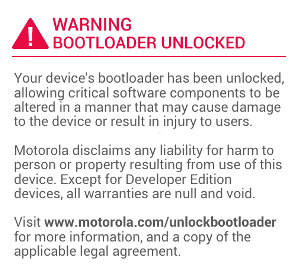 That's it, now you have successfully unlocked the Bootloader of Motorola device. Do let us know in the comment section if you face any issues, while trying to unlock Bootloader of Motorola devices.