In this Guide Checkout how to Unlock Bootloader on Moto E with simple and easy procedure – How To Guide
Have you got Moto E and want to Root it, then you might have came across a word called Bootloader, and also heard that this should be unlocked to root your device, then you can follow the below procedure to unlock Bootloader on Moto E. Before proceeding, there are some pre-requisites to follow, so first follow them and proceed to unlock the Bootloader.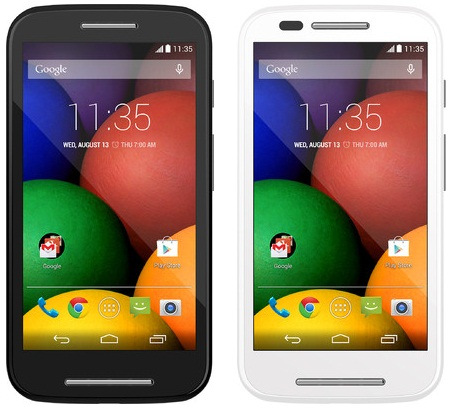 Also Read: How to Root Moto E Android Smartphone
Pre Requisites:
Make a backup of all of your data including SMS, Contacts, Call logs, files in internal storage etc., to avoid any data loss.
Enable USB Debugging from Developer Options. Probably settings > Applications > Development > USB debugging.
Charge your device to at least 60%, to avoid bricking of your device.
Assuming that you are done with all the above requisites, let's now proceed to unlock bootloader.
Disclaimer: We should not be held responsible for any damage occurred to your Moto E for not following procedure properly. So proceed at own risk.
Procedure to Unlock Bootloader on Moto E:
Setup Fastboot drivers on your PC. How? Follow here.
Download and install the USB Drivers for your device on PC.
Power off device and enter into Fastboot mode, by pressing Power off + Volume Down buttons simultaneously.
Now open Fastboot folder and Press and hold Shift key and right click anywhere inside the folder and select open command window here.
Once CMD opens type the following commands:[box type="shadow" ] fastboot oem get_unlock_data [/box].
Now you will get output similar to the below format.[box type="shadow" ]$ fastboot oem get_unlock_data
(bootloader) 0A40040192024205#4C4D3556313230
(bootloader) 30373731363031303332323239#BD00
(bootloader) 8A672BA4746C2CE02328A2AC0C39F95
(bootloader) 1A3E5#1F53280002000000000000000
(bootloader) 0000000[/box]
On Mac OS, the output string will look like:[box type="shadow" ]INFO0A40040192024205#4C4D3556313230
INFO30373731363031303332323239#BD00
INFO8A672BA4746C2CE02328A2AC0C39F95
INFO1A3E5#1F53280002000000000000000
INFO0000000 [/box]
Now you have to paste this code without (bootloader), white spaces and INFO. Now your string should look like this:[box type="shadow" ] 0A40040192024205#4C4D355631323030373731363031303332323239#BD008A672BA4746C2CE02328A2AC0C39F951A3E5#1F532800020000000000000000000000[/box]
Now head over to Motorola's official website and paste the code there, to unlock the device with the help of Unlock key.
Note: If at all your device gets into boot loop sequence then you have to Power off the device, by long pressing Power button, and reboot the device. If this doesn't solve the issue then you have to follow the above procedure again.
Do let us know in the comment section if this method helped you or not, also post if you have any issues while trying to unlock Bootloader on Moto E. Like and share this post with your friends on Facebook, Twitter, Google + etc., and let them also enjoy the Tech.