Titanium Backup is one of the best root apps found on Google Play Store. If you have rooted your device, then the importance of taking backup will be well known. The app helps to perform backup of all your important data and which will be helpful in restoring back whenever accidental factory resets or other data failures occurs. The app is all updated to latest version 7.2.0 which brings fix to certain bugs seen in earlier version and also adds support to Android M OS.
Google already released Android M developer preview for various Nexus handset. If you own a Nexus device and have Android M installed, then Titanium backup can be easily installed and will be useful in taking simple backups of data. The latest version has support for ext. SD card on HTC One Max and fixes incorrect IPV6 URL displays in TB Web Server.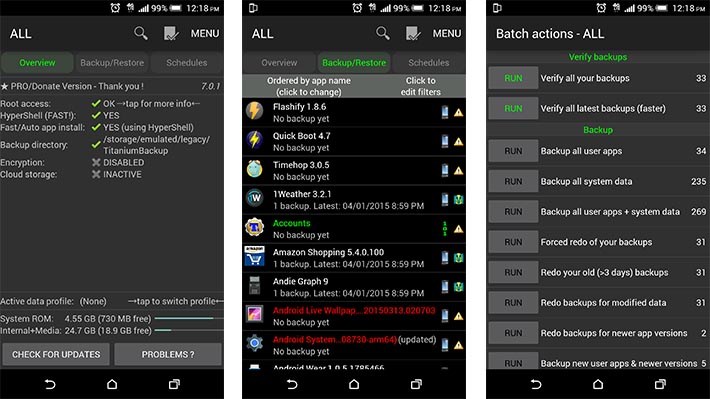 The following are the changelog of Titanium Backup 7.2.0 update-
What's New?
[PRO] Added an easy way to clear Dropbox/Box/GDrive authentication tokens.
Initial support for Android M preview, fixed FC on launch & backup folder detect.
Support for ext. SD card on HTC One Max.
Added "copy IP address to clipboard" in TB Web Server.
[PRO] Fixed bugs in Box API code (non-working login panel in some cases, inability to clear authentication token).
Fixed incorrect IPV6 URL display in TB Web Server.
Minor fixes & improvements.
Updated translations
Already install Android M on your device, then do let us know how you feel the latest Google operating system, the Android M and this new update in the below comment box.