Android 6.0 Marshmallow roadmap of Samsung has been surfaced showing that the update will be rolled out in two phases, of which Galaxy Note 5 and Galaxy S6 Edge+ will be updated first in the month of December 2015.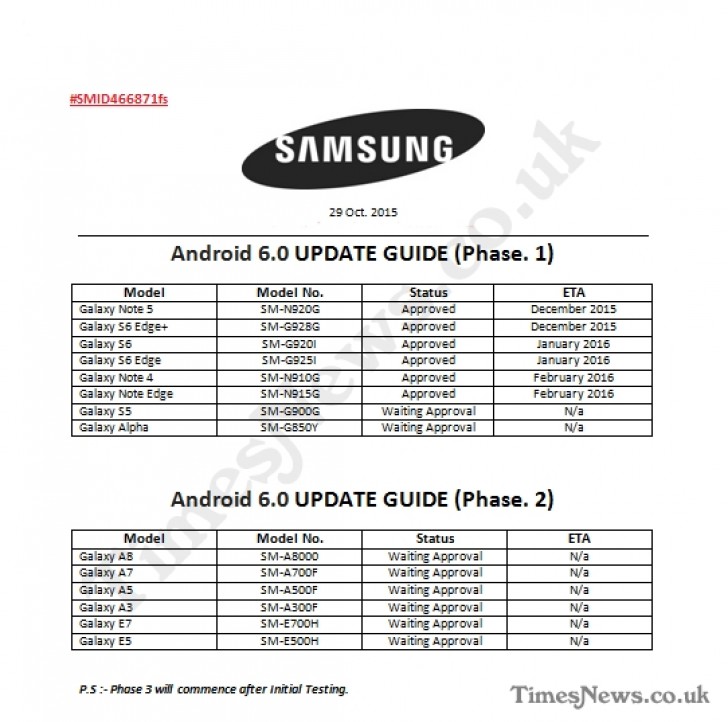 A total of 6 Samsung flagship devices has been approved for Android 6.0 Marshmallow update while other flagship and mid-rangers still are in waiting approval. The 6 Galaxy devices confirmed to get Marshmallow update are galaxy Note 5, Galaxy S6 Edge+, Galaxy S6, Galaxy S6 Edge, Galaxy Note 4, and Galaxy Note Edge. The Galaxy S6 and S6 Edge are scheduled to get update in January 2016 while the Note 4 and Note Edge will be updated somewhere in the month of February 2016. The above roadmap includes only one model number per phone, it is quite possible that regional variants also receives the update at the same time apart from carrier based which might take longer periods.
Samsung has included Galaxy S5 and Galaxy Alpha in the first phase of update which is still in approval and ETA has to be announced. The phase 2 consists of 6 smartphones of Galaxy A and Galaxy E series from which none of them are approved for Marshmallow update. The phase 2 devices includes Galaxy A8, A5, A7, A3, E7 and E5. It is important to consider that the roadmap is dated 29 Oct 2015 which is nearly 3 weeks ago and few of the devices in the phase 1 already got approval such as Galaxy S5 and Galaxy Alpha which is estimated to rollout in the month of March 2016.
There is one more phase called phase 3 which will commence only after testing. Samsung has not announced the phase 3 devices yet. As it is the only roadmap, the updates are expected to push back and results in delay. Yesterday OnePlus also announced its Android Marshmallow plans.