Lenovo A859 is the 5-inch capacitive touchscreen Smartphone which runs with Android 4.2 Jelly Bean OS. Now-a-days the process of rooting has became more popular as it gives extra benefits like downloading the apps apart from Google Play Store, installing new firmware, etc. The process has became more easy with the help of Framaroot app. So follow the below instuctions to root your Lenovo A859 Android phone with Framaroot app.
Warning: Rooting of your Lenovo A859 device will voids its Warranty.
"Disclaimer: We are not responsible for any damage occurs to your device. Try the rooting process at your own risks."
Steps to Root Lenovo A859 with Framaroot:
1. Download the Framaroot app to your Lenovo A859 and install it like all the other apps.
2. After successful installation, open the Framaroot application on your A859 phone.
3. Choose install SuperSU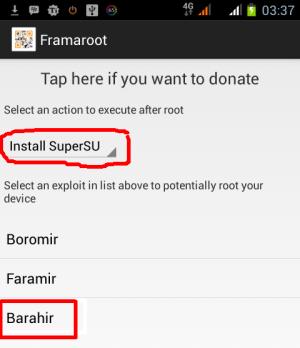 4. Now from the other options select "Barahir".
5. Wait for a while till the rooting process is finished. If you get the notification as "Success…Superuser and su binary installed", then it means the rooting process has been finished.
6. Now Reboot or restart your Lenovo A859 Android phone.
To check or verify whether your device is successfully rooted or not, install Root Checker app in your device by downloading from Google Play store. Any query regarding the process of rooting, say to us by leaving a comment below.