Download Narendra Modi inspired Modi Run Android game latest version v2.0 (APK Download).
After the Launch of Smartphone called Smart Namo, this time Android Game Modi Run is launched based on Gujarat Chief Minister Narendra Modi. Everyone has enjoyed various games like Mario, Subway Surfers, Temple Run and this time it's Modi Run. As Narendra Modi is the Prime Ministerial Candidate this game will sure help in increasing the popularity of the Gujarat Chief Minister. The game is not sponsored by Narendra Modi but by some fans who really want him to be the next Indian Prime Minister.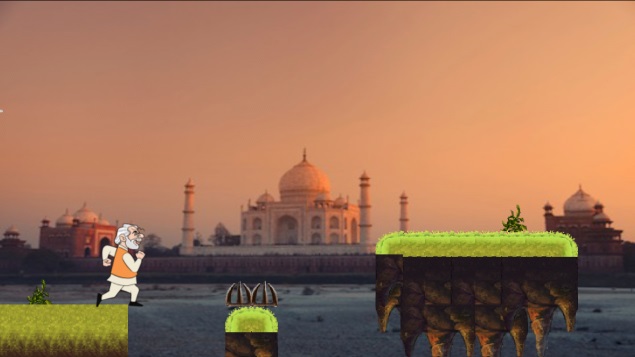 Modi Run- Android Game
The Modi Run Android Game comes with 18 rounds where in the minister has to cross different states of India. The game has been created by Dexati, a mobile app and game developer based in the US. This game has been download more than 1 lakh times which is not an ordinary figure. Due to elections on the head people will be searching stuff like this.
Modi Run- Name of the stages (States)
The game is based on Classic Mario series and all the stages in the gameplay are named of Indian states. Gujarat is the first stage to start in the gameplay followed by Maharashtra, Uttarakhand, Rajasthan, Kerala, Karnataka, Andhra Pradesh, Bihar, Uttar Pradesh, Tamil Nadu, Assam, Madhya Pradesh, Punjab, West Bengal, Haryana, Odisha, Assam and Sikkim.
In the gameplay Modi has got flying powers by just flapping arms comically which will be helping in covering more gaps across the game. The game aims to collect more and more votes so that Narendra Modi will be willing the elections.
Modi Run Android Game Rating:
The game has rating of 4.3 out of 5 which is considered fine. The latest version of the game is v2.0.
Modi Run Android Game Free Download:
Download From Google PlayStore
Modi Run Free APK download for Android and iphones- Click Here