Micromax is one of the top selling Android smartphone company in India. Company offers high-end specs devices at reasonable pricing which is its big mantra of getting successful in the Indian electronic market. As every electronic gadgets faces certain errors, the Micromax Canvas phones also comes with errors. One such error is Micromax PlayStore Apps Downloading Error which is being reported by many Micromax users.
So, here is the complete tutorial to solve Micromax PlayStore Apps Downloading Error. The guide works with both MMX Android Lollipop 5.0 and KitKat 4.4 smartphones.
How to Solve Micromax PlayStore Apps Downloading Error (KitKat and Lollipop Phones):
Solution 1: Uninstall the Updates
Many users have claim that just clearing the Play Store data and uninstalling the updates fixes the issue of Micromax PlayStore Apps Downloading Error. So check out the below steps to solve the problem.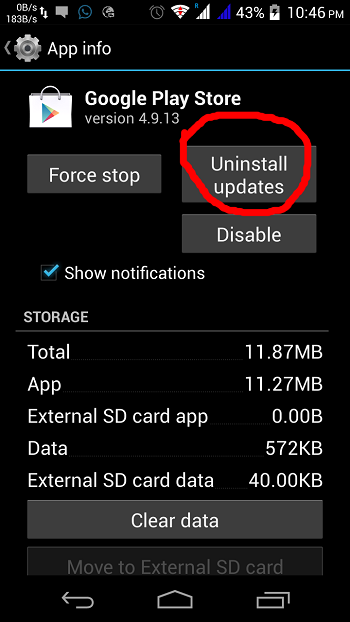 Go to Settings > Apps > Play Store.
Now select "Clear data" from the available option.
After that uninstall all the updates by selecting the option "Uninstall updates" present just above the Clear data option.
Now go to phone's homescreen and open Play Store app.
Login with necessary G-Mail ID and password and try downloading the apps.
Now the apps can be successfully downloaded and installed on your Micromax Android phone.
If this method didn't works for you and still facing the same issue, then follow the next solution.
Solution 2: Fixing the Access Points
Sometimes Micromax PlayStore Apps Downloading Error is also caused due to change in Access points. So checkout below to fix the Access points on your Micromax Canvas Android phone.
Open Settings and tap on Mobile Networks.
Locate Access points settings under Mobile Networks and tap on it.
Not reset the settings to default from the left key option.
Now launch the Google Play Store and see whether the issue has been solved. If still persists, you need to follow the solution 3.
Solution 3: Perform Hard Reset
If none of the above solutions work for you in fixing the Micromax PlayStore Apps Downloading Error, then performing hard reset is the only option left for you. This solution works in fixing numerous errors on an Android phone, so might works for this issue too.
Note: Perfroming hard reset erases all the data present on your Micromax Android phone, so before starting the process do take a complete backup of all your important data, files, messages, contacts, etc.
Locate Volume Up, Volume Down and the Power Key on your Micromax.
Now press and hold all the above three keys simultaneously.
Now enter into recovery option using the Volume Up.
Locate Wipe Data/Factory reset option from recovery menu.
Now long press Volume up key to factory reset your device.
Reboot your device into normal mode.
If you still facing the Apps downloading error on your MMX Canvas smartphone, then visit you nearby located service centre.