Micromax, the budget smartphone maker finally overtakes Samsung to become the top smartphone maker in India. This is clearing seen in the reports presented by Canalys. The reports are based on the Q4, 2014 and this raise by Micromax has been seen because of people migrating from featured phones to Smartphones.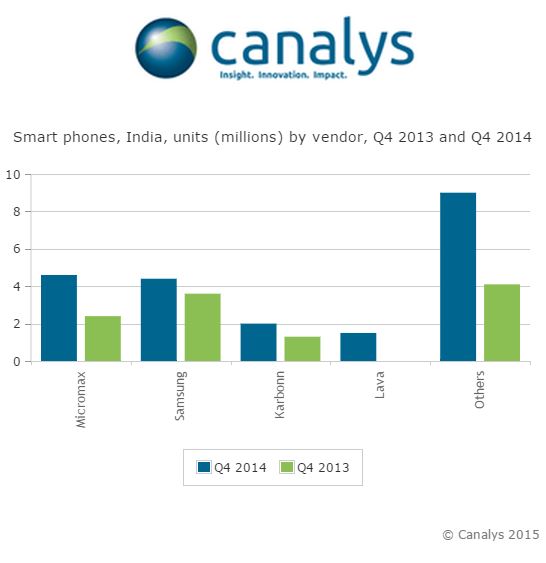 According to the report issued by Canalys on February 3, the Micromax Company accounted for 22 per cent of smartphone sales in India in the last quarter of the year (Q4 2014) when compared to Samsung's 20 per cent. A total of 21.6 million smartphones were sold in the Indian market in the period, an increase of 90 per cent from the last year.
As people migrating from feature phones, it was seen that about quarter of devices sold in fourth quarter were under the price tag of $100 and about 41% of the smartphones were sold between the prices $100-$200. The Android One smartphone's launched by partnering with Google was one of the big success in India.
"Micromax has been quicker than its competitors to improve the appeal of devices, for example, by including a wide variety of local languages on its Unite phones. Lava, another domestic vendor, has launched devices that cater to the preference for greater battery life – in this case a couple of days. But vital to success is selling these handsets at low price points to appeal to the bulging mid-level income market in India." said Canalys Analyst Rushabh Doshi.
After Micromax and Samsung, Karbonn & Lava became the third and fourth smartphone vendors in India.