Check LG G Pad 7.0, G Pad 8.0 and G PAD 10.1 Tablets specs, features and reviews.
LG adds 3 new tablets to the G Pad series i.e., G Pad 7.0, G Pad 8.0 and G PAD 10.1. The LG has kept secret regarding the specifications of the trio new tablets. It is said that the tablets will be announced at the MedPi 2014 in Monaco this week. The LG Company unveiled the G Pad 8.3 back in the month of September last year and its Google Play Edition in December. These Tablets have Q Pair 2.0 features for connecting these to Smartphone using Bluetooth Connectivity to get notifications and Knock Code personalized lock screen.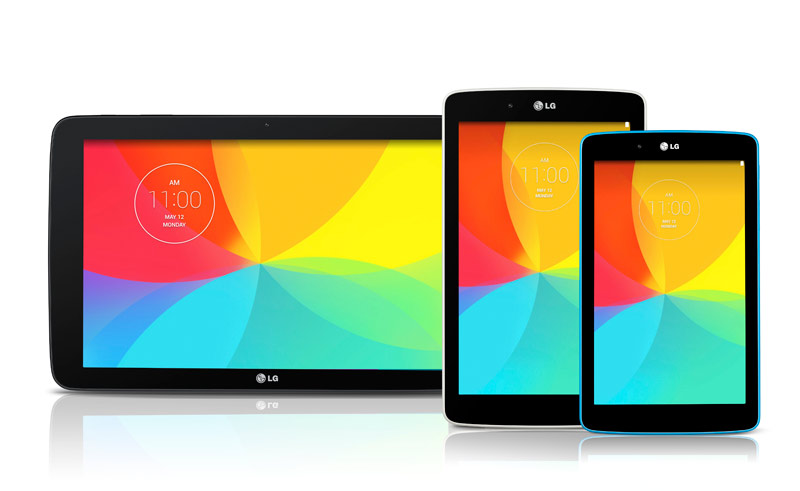 Though the specifications of the device are not yet announced, but it is clear regarding the display screen sizes of these tablets from their name. It is said that the tablets comes with rear camera without flash and a front facing camera.
LG G Pad 7.0:
This tablet is designed to hold in one hand as it comes with 7" capacitive touchscreen. The expected connectivity of the device is Bluetooth, Wi-Fi and USB port.
LG G Pad 8.0:
With its 8-inch display screen, the tablet offers smooth functioning and has better multitasking facility.
LG G Pad 10.1:
This tablet comes with massive 10.1-inch display screen and battery which doubles the entertainment and fun with better standby.
The last tablet of the LG was G Pad 8.3 which is powered with Snapdragon 600 Quad-Core processor clocking at the speed of 1.7GHz. The device also includes 2GB of RAM and 16GB of internal storage. There is 5-megapixels of rear camera, 1.3-megapixels of front facing camera and 4,600 mAh battery.
The full specifications of all these tablets will be unveiled at MedPI 2014 IT/Tech trade show in Monaco from May 13th to 16th. Follow us to get more details of these tablets and other latest tech news.