In this guide checkout how to Jailbreak iOS 7.1 and iOS 7.1.1 Untethered using Pangu software – How To Guide
Chinese developer had come up with a tool named as Pangu, this tool jailbreaks the iOS 7.1.1 on almost all the device, which are updated to iOS 7.1 or iOS 7.1.1. Many developers have tried their best to develop a tool which can Jailbreak iOS 7.1 and iOS 7.1.1, but they are unsuccessful. Finally this Chinese developer came out with a tool and is believed to that this tool successfully Jailbreaks iOS 7.1 and iOS 7.1.1 device. It is also stated that this tool is quite safe to use, it install the Cydia and Chinese app store with the illegal apps as well without any malware and hiccups.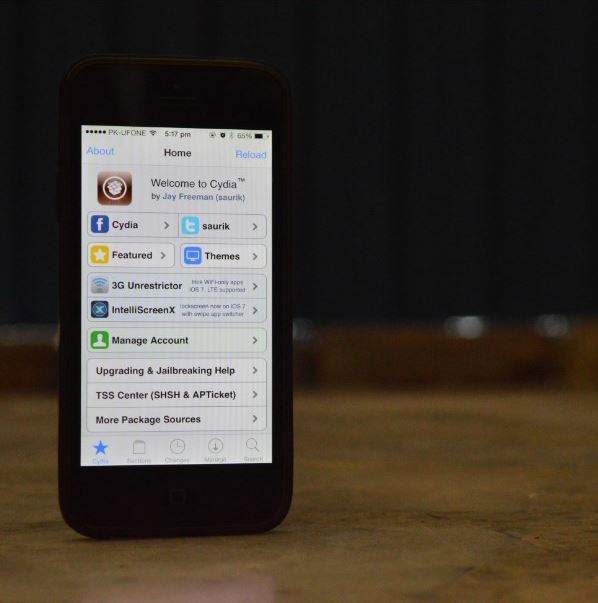 Jailbreaking iOS device gives you all the benefits that a normal stock system won't. After updating their device's to iOS 7.1 or iOS 7.1.1 many of the users are left with Stock system and now finally they have got a chance to make their device great by Jailbreaking it again. Before proceeding let me warn you that this tool only works on windows and you must follow the steps carefully.
Disclaimer: We should not be held liable or responsible for any damage occurred to your device. So understand the risk involved and proceed further at your own risk.
Before proceeding let's check whether your device is compatible with this software or not, by checking the below compatibility list:
iPhone 5S
iPhone 5C
iPhone 5
iPhone 4S
iPhone 4
iPad Air
iPad Mini Retina
iPad Mini
iPad 4
iPad 3
iPad 2
iPod Touch 5
Make sure your device is listed in the above compatibility list and also make sure it is running on iOS 7.1 or iOS 7.1.1. Once you are done we are ready to go and Jailbreak iOS 7.1 and iOS 7.1.1 devices.
Procedure to Jailbreak iOS 7.1 and iOS 7.1.1 devices:
Download the Pangu for windows.
Connect your iOS device to PC, using original data cable.
Unzip the Pangu file which you have downloaded and run the Pangu.exe as administrator.
Once the tool launches un-tick the boxes shown below, in order to avoid the installation of the Chinese app store with illegal apps.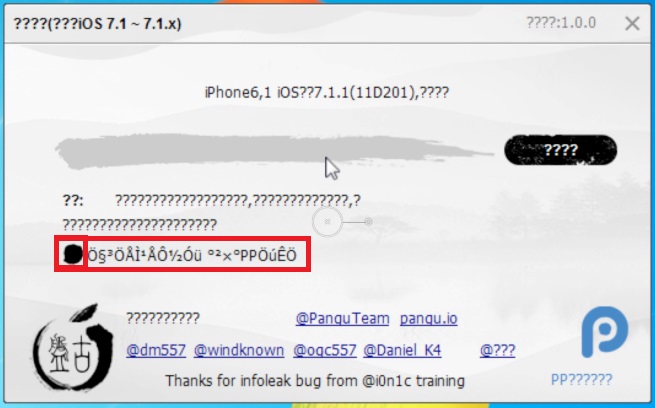 Now click on the question marks with black background as shown below.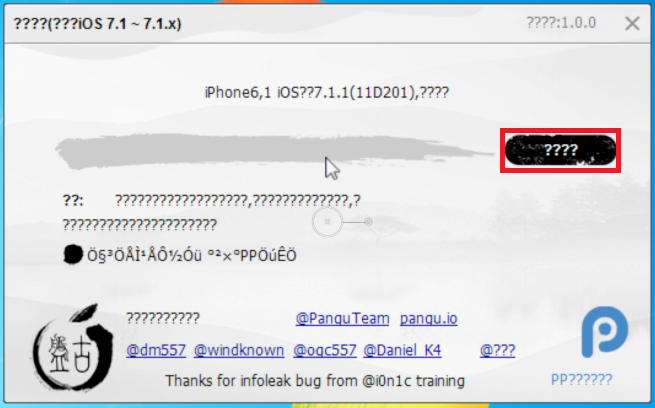 Once you click this button it will start the process of Jialbreak and you will be prompted to change the date and time on your iOS device.
When it prompts to change the data go to "Settings > General > Data & Time" and change the date to June 2 2014.
Once the whole procedure is done iOS device will reboot and you will see that Cydia is installed on your device.
That's all now you have successfully Jail broken iOS 7.1 and iOS 7.1.1 device and you are ready to enjoy the benefits of it.