Best Xiaomi Android Smartphone Screenshots (Capture Screen) Tricks and Tips
Xiaomi, the Chinese company is currently the world's third best distributor of smartphones. The company is well known for manufacturing high-end specifications devices at reasonable pricing. Xiaomi Mi4 and Redmi 2 are the latest Android smartphone launched by Xiaomi. Redmi 2 is the budget Android phone pricing at just Rs. 6,999, while Mi4 is available for Rs. 17,999.
Taking screenshot on Xiaomi Android smartphone is always an easy process. Taking screenshot of device screen helps to capture high scores whenever you reach while playing any game, save the important notes from the internet and much more. Screenshot on Xiaomi phones can be taken with the help of hardware buttons and notification panel. The list of Xiaomi Android smartphones which are compatible with the below screenshot methods are Xiaomi Redmi 1S, Mi3, Mi4, Redmi Note, Redmi 2, Redmi Note 4G, Mi Note Pro and Mi5.
Follow any one method from the below to take screenshot on Xiaomi Android phones.
Related Content:
How to take Screen Capture of Xiaomi Android Smartphones:
Method 1: Using Hardware Keys
Xiaomi Smartphones comes only with three hardware buttons, but you should know which keys work for taking screenshot. Here below are the steps to be followed for taking screencapture on Xiaomi smartphone using hardware keys.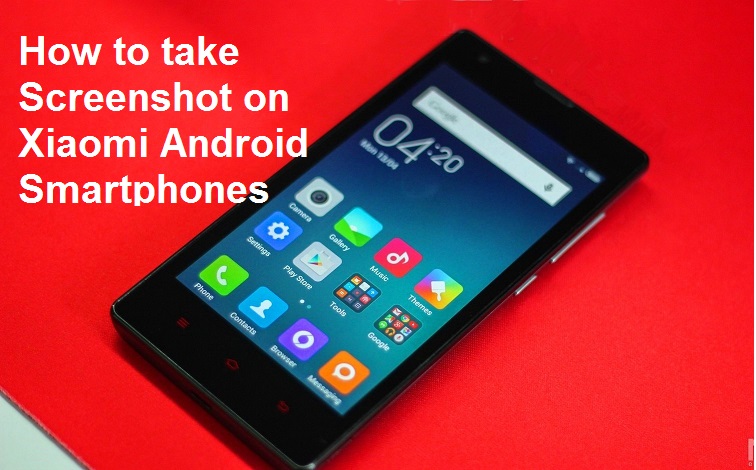 Step 1: Select the screen you want to take the screenshot.
Step 2: Locate the Power and Volume Down buttons on your smartphone.
Step 3: Now press and hold the above buttons together until you hear any camera like shutter sound.
Step 4: Device screen flickers, indicating that the screen capture has been taken.
Step 5: Release the hardware buttons.
Step 6: To view the screenshot, open Android gallery and find Screenshots folder. All the screenshots will be stored in this folder.
Method 2: Using Menu Option
Now Xiaomi user can easily take screenshot using the menu option. This menu is not available to all the phones, but only on Xiaomi smartphones. So follow the below steps to take screenshot using Menu option.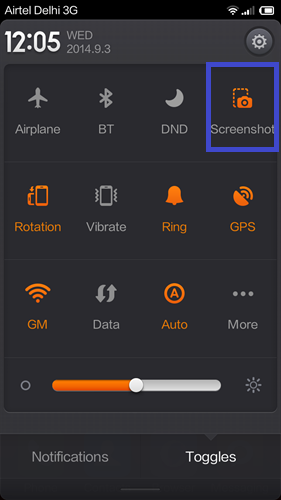 Step #1: Close all the tasks of Xiaomi mobile and go to the screen which you like to take screenshot.
Step #2: Now drag the notification bar from top to bottom.
Step #3: Choose Toggles and locate the Screenshot icon.
Step #4: Now tap on the icon and there you go.
Step #5: The screen will flicker alongside you will hear shutter sound stating that the screenshot has been taken.
Step #6: Now view the screenshot by opening Gallery > Screenshot folder.
So, the above are the two methods to take screenshot on Xiaomi Android smartphones. In addition to the above methods, smartphone users can also use third party screenshot apps by downloading it from Google Play Store.
If you find any difficulties in taking screenshots or have any other queries, do drop a comment below. Do share this post with your friends via Facebook and Twitter as it may be useful to them.