Flipkart, one of the top Indian online shopping store has announced its new mobile website called as Flipkart Lite. Earlier Flipkart went App-only by offering various products to purchases only from Flipkart mobile application. That means every users have to download Flipkart application to their mobile device in order to grab the various deals offered for app-only purchases. Due to this move, few negative responses have been recorded by the Flipkart customers. So, keeping all that in view Flipkart has finally rolled out new Flipkart Lite mobile website which is the down version of both mobile app and desktop website.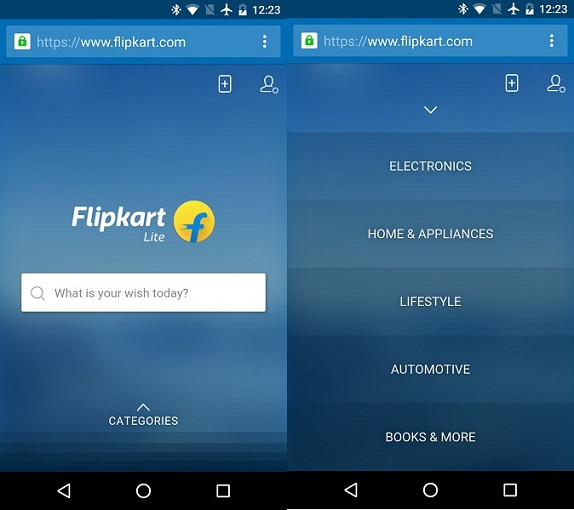 The Facebook Lite has adopted the same blue color theme from its mobile app and desktop website. The website is designed so well with fewer navigations and has simple UI. We browsed the mobile site in search of a particular product and got impressed with the pretty smooth interface. As soon you enter into the website you will see a 'Flipkart Lite logo' just above the search box where you can search the product looking for. Flipkart has allocated the option 'Categories' at the bottom of homescreen which gives access to various fields like Electronics, Home & Appliances, Lifestyle, Automotive, Books & more. The website is faster and adopted a responsive design.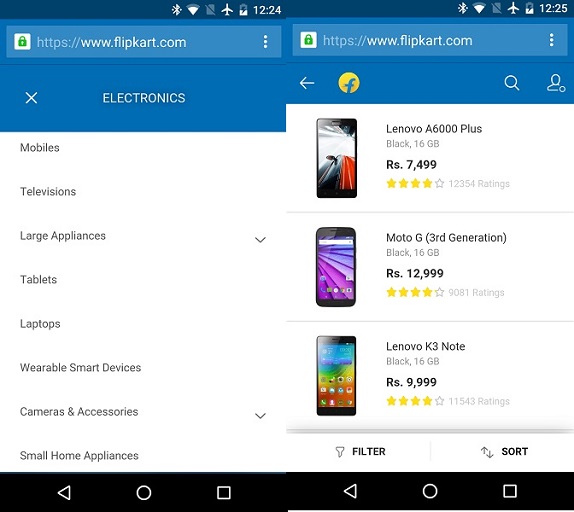 What could be the reason behind Facebook launching the new mobile website? If you think the reason is due to customer's outcry the app only practise, then you're entirely wrong? Flipkart has launched the new Flipkart Lite mobile website because of an update in Google's search algorithm. Earlier this year, Google updated its search algorithm and said that it will provide more priority to mobile-friendly websites when anyone browse the web from a mobile handset.
If you wanted to download Flipkart app for your Android device, then click the below link-
Download Flipkart App for Android