Many Android 5.0/5.1 Lollipop OS smartphone & tablets users complained that a "Google Play Services has stopped" error has been popping up on their devices. So here in this guide we shared the possible best 5 solutions that can helps to overcome the issue. There may be many reasons causing the error. Few reasons includes outdated Google Play Services installed, improper internet connection, apps cache may be creating issue, etc. Sometimes it may be bug from Google which can be fixed in the next update roll-out.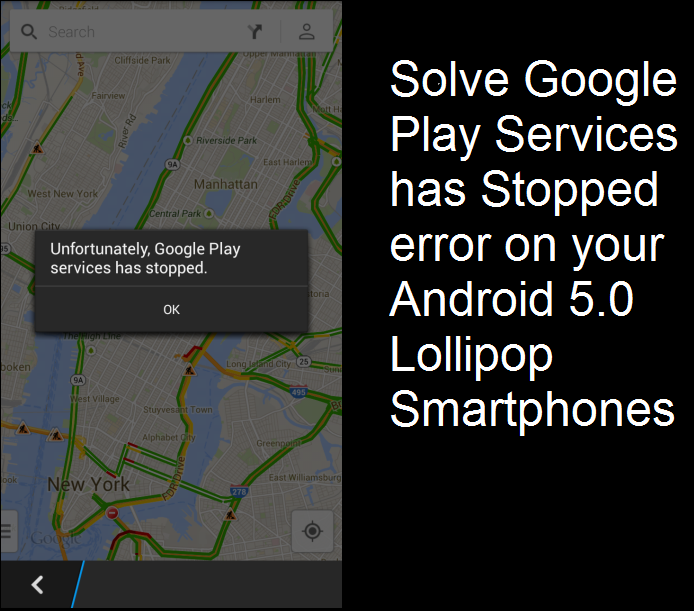 So try the below solutions one after another to solve "Google Play Services has stopped" error on your Lollipop devices.
How to fix "Google Play Services has stopped" error on Lollipop 5.0 smartphones:
The below are the list of solutions for fixing Google Play Services error on your Lollipop OS smartphones. Check the below steps one by one and see which really helps to solve the problem.
Guide 1: Make sure the latest version of Google Play Services is installed on your Android Lollipop phone. You can download from Google Play Store. The error may be causing due to the outdated version of Play services which consists of bugs when running on latest Lollipop OS smartphones. Google releases various apps update in order to compatible with the Lollipop OS devices which has updated Material design.
Guide 2: Ensure the Google Play Services cache is completed deleted. If not delete from Settings > All Apps > Google Play Services > Clear Cache. The Google Play Services app present on your Lollipop device acts as a framework of all the other Google apps. So try to clean the app cache and check whether the error has been fixed.
Guide 3: If the above solution doesn't work, then try clearing the Google Services Framework cache. This solution would surely solve your issue. The Google Services Framework is responsible for storing information of various apps and always sync with Google servers whenever internet connection is available. So this will make Google Play Services always up and continuing in running process. So this might be the reason for facing the "Google Play Services has stopped" error on your Android 5.0 Lollipop OS smartphone or above. To clear Google Framework cache go to Settings > Apps > All Apps > Google Services Framework > Clear Cache.
Guide 4: The Google Play Services error can also be seen when there is invalid internet connection. Ensure that the WiFi internet is not blocking any of the IP address which Google uses for sending and receiving the data.
Guide 5: At last but not least, try to reboot your Lollipop smartphone and check whether the issue has been solved. You can also perform factory reset if any of the above guide doesn't works for you.
Is there any other solution which work for you in solving the issue of Google Play Services has stopped error, then do comment below. Looking for more guides, then check our How to section.