Android Studio is an IDE (integrated development environment) for developing on the Android platform. This Android Studio was been made official on May 16, 2013 at the Google I/O conference by Google Product Manager, Ellie Powers. It can be downloaded for free under the Apache License 2.0 and the initial version starting from 0.1. Now the Android studio has been updated to latest version 1.1 RC1.  Like all software comes with few bugs, this update also induces some known issues which can be referred.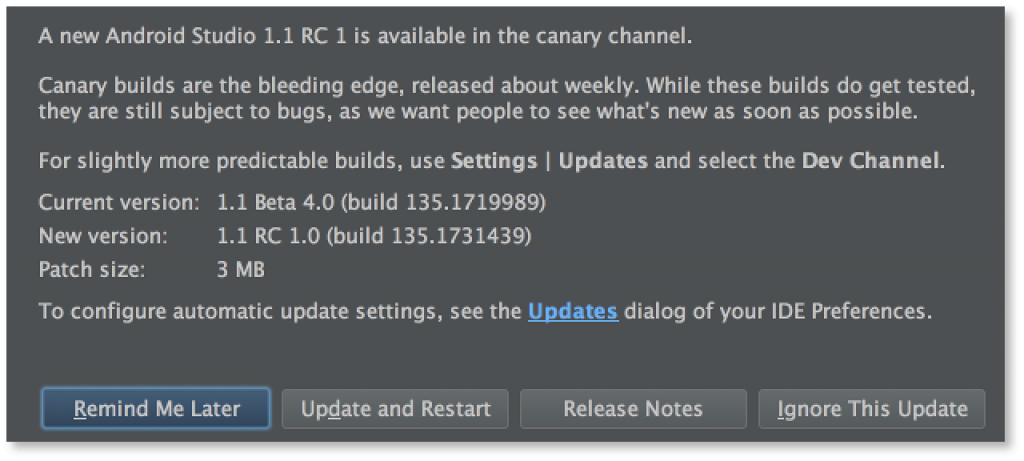 Juts head to path Help > Check for Update which will download and install the small patch instead of full IDE image. If you are still in the older version then this patch can't be applied where full version of latest Android Studio has to be downloaded. Select the OS of your system and download from the below links.
Download Android Studio 1.1 RC1
Windows (235 MB)
Linux (233 MB)
Mac (234)
The Studio 1.1 RC1 which is available on the Canary channel is the build while Android Studio 1.0 on Stable channel will be the default one. So before downloading make sure to transfer to stable channel instead of canary builds because it may not be stable all the time. On the other hand, Google is expected to release Android Studio 2.0 in the upcoming Google IO scheduled somewhere in the month of June.